Calo's Adventure Therapy is a program that works with Calo students to help them in three main areas; Creating positive shared experience (which creates joy), Building self-efficacy, and encouraging students into the growth zone. Adventure Therapy does this through CASA and many activities within the 5 therapeutic sequences
Within these sequences students have scheduled activities weekly such as; Fitness 3 times a week, Three Hour Adventure Activities, Team Building activities, Leisure activities, and all day Engineered Experiences.
SETTING AND ACHIEVING GOALS
The Setting and Achieving Goals sequence is designed to provide students the opportunity to challenge negative core beliefs as well as gain mastery and self-confidence. Students are trained for a 25-30 mile bike ride on the Katy trail in Missouri through weekly fitness exercise routines and cycling excursions around campus. Ropes course activities during the Setting and Achieving Goals sequence teach students the importance of setting a goal that pushes them outside their comfort zone into their growth zone. In doing so students gain experiential knowledge of their limits and are safely guided to push beyond them. The sequence's capstone is a 25 mile Engineered Experience trip out at the Katy trail. Where students get to put all their hard work to action. The Katy trail is a "rails to trails" path. It stretches 265 miles across Missouri.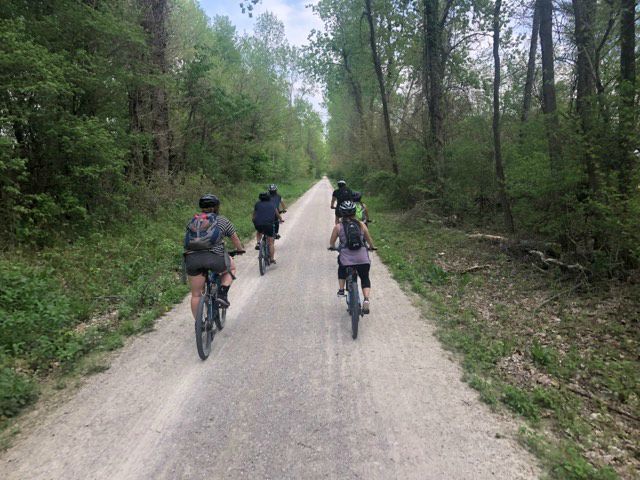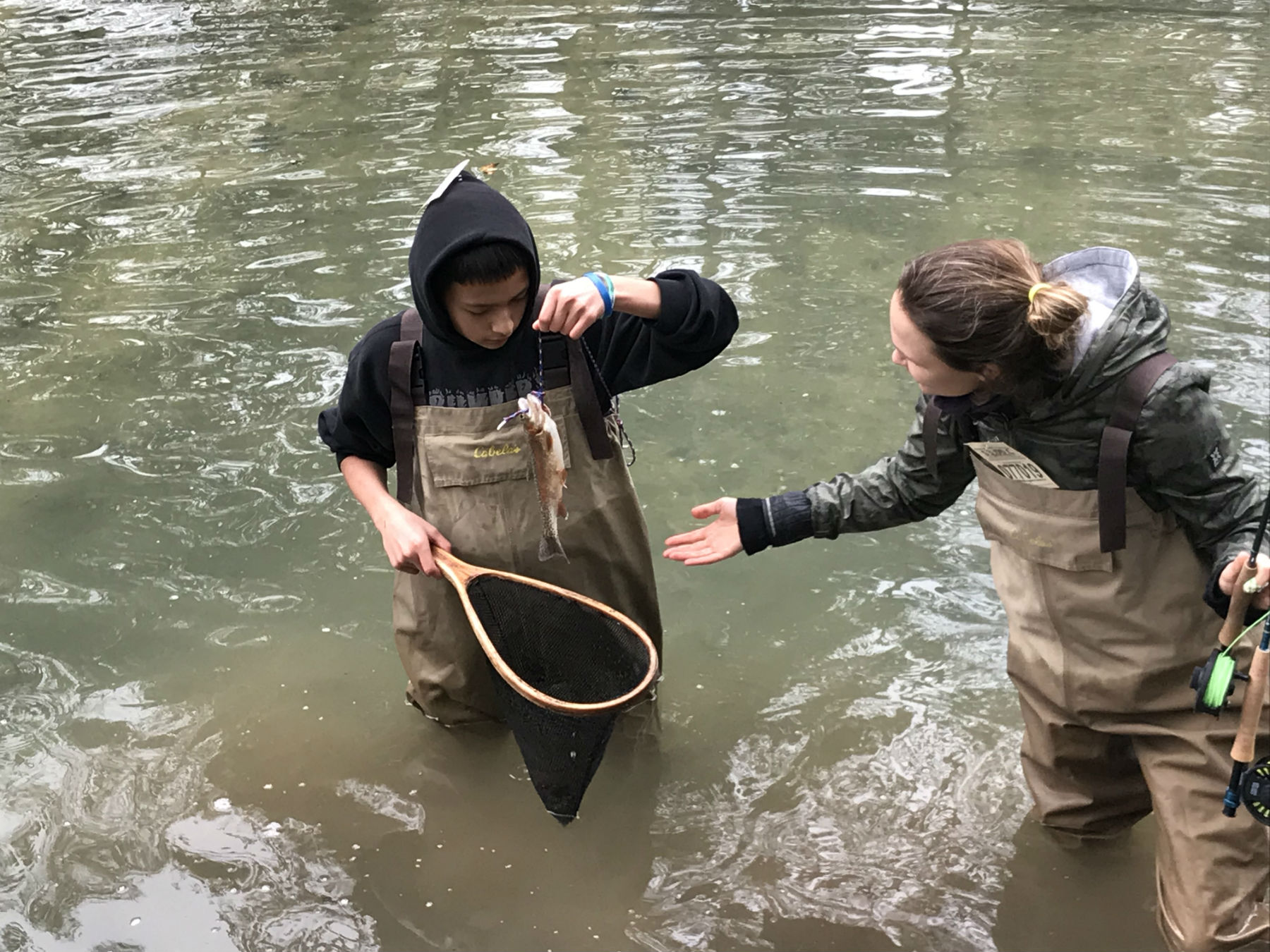 Trust is one of the more complicated concepts for our students as they struggle greatly with recognizing the value of this in relationships. Therapeutic metaphor is used throughout this sequence to tie the analogy of fly fishing or the "art of deception" to trusting relationships. We begin this sequence talking about the concept of deception. Students are asked to engage in contemplation and introspection with how they experience Trust in their lives through journaling and therapeutic groups as well as in adventure activities.
The Engineered Experience is designed to give students a chance to demonstrate the Trust they have gained throughout their participation in the sequence. For 2 days students fish the pristine trout waters of Montauk Hatchery as well as participating in Team building games throughout the day. Nightly fireside groups are held to provide students with an opportunity to talk vulnerably about Trust.
Safe communication is the foundation of any trusting relationship. In the communication sequence, students gain experiential mastery of communication skills in interpersonal relationships. The concept of "work hard, play hard" is inherent in this sequence. Healthy communication poses great difficulty to our students and can require hard work to do well. As such, students learn that communication can become a vehicle that allows opportunities to reap the benefits of hard work through deepened relationships and play. Vulnerability, honesty and an awareness of our own fears is essential for us to communicate well with others.
The communication sequence is capped off by an all-day Engineered Experience on the beautiful Lake Ozark. Students go out to a campsite at Lake Ozark State Park and have a celebration which includes water sports in the cove. They can also experience fun through playing land games such as frisbee and bags.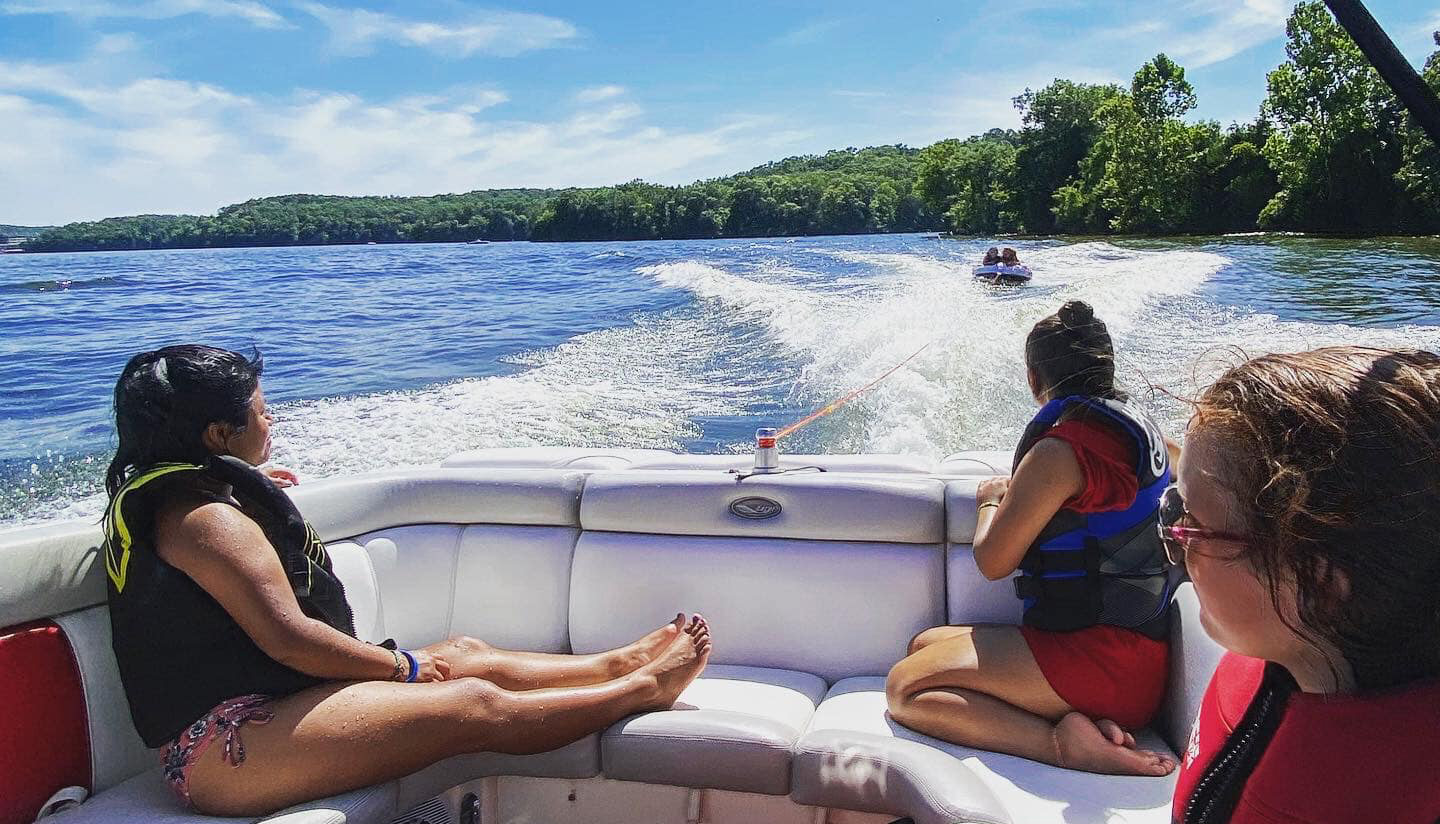 The Teamwork sequence is designed to create experiential opportunities for students to explore how teamwork affects relationships. Students gain practical knowledge of the importance of working together as a team to effect mutual change. In order to help students increase their applicable understanding of the principles of teamwork they need to be involved in, and do activities that require teamwork. One of the major focuses of this sequence is the concept of living outside the comfort zone.
Students spend time working together and enjoying Calo's indoor rock wall. They are learning how to build trust with themselves, the safety equipment, and their peers. To celebrate their hard work and demonstrate skills acquired, students take a trip to Warsaw Missouri where they get to Rappel an 85ft rock face that over looks beautiful Truman Lake.
Empathy for our students is often a difficult concept and skill to understand and master. We believe that empathy is an essential component of healthy, healing relationships and as such seek to foster this ability or emotional skill in our students. Many of our students resist empathizing with others, particularly those they've hurt for fear of the shame that may arise within. It is our goal to experientially teach Calo students that not only is empathy essential in healing broken relationships but that it is also an emotional skill that will serve them the rest of their lives. Themes of ecopsychology are also woven throughout this sequence to imbue our students with a sense of sustaining resources as well as an appreciation, or gratitude for what is often taken for granted.
Service is such a vital component to growth and healing relationships that it is integrated throughout the year in adventure therapy. Whether it's volunteering at a local state park for a trash clean-up day, helping out at the local homeless shelter or food pantry, or giving back to their community through other means, our students are taught the value of Service. Service connects and brings to life our core competencies in adventure therapy by giving back to others in a meaningful way.
PARTICIPATION BY CHOICE, NOT COERCION
Real growth and change must occur by conscious choice and never be forced. Calo students are skillfully guided by highly trained Adventure Therapy staff to push themselves to achieve and realize new limits.
Soft skills vs. hard skills
Each sequence utilizes the "hard skills" taught in Adventure Activity such as biking, hiking, fishing, skiing or rock climbing as a backdrop or platform for students to engage with the "soft skill" of Empathy, Setting Goals, Trust, Communication, Teamwork and Service.
Experiential learning
Experiential learning and education are at the heart of how we create growth opportunities for our students. We believe that all lasting change must occur through lived experience in the context of safe, trusting relationships.
Calo Growth Zone
The Calo Adventure Therapy model is based on the theory that our students need to be safely guided in the context of safe, trusting relationships by understanding and highly trained adventure staff and coaches to reach their full potential. Students by nature will choose to remain in their "comfort zone". We seek to safely guide our students into their "growth zone" where by nature they will be uncomfortable but open to change and challenging internalized maladaptive ideas, or negative core beliefs about themselves, others and the world. Calo adventure therapists are trained to recognize when a student approaches his or her "danger zone". The danger zone occurs when a student is forced into an action where he or she does not have the freedom of choice. This inherently can create internalized fear, trauma can be driven back "down" further into the body or new trauma can develop if allowed to occur.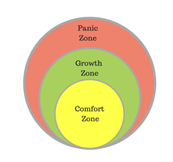 Recreation Therapy Program Components:
The Calo Adventure Therapeutic Program is comprised of weekly Ropes Course and Adventure Activities. Each sequence culminates in a camping trip or Engineered Experience. Service projects are also incorporated throughout the year.
Ropes Course
Weekly Ropes Course activities provide exciting opportunities for students to explore the therapeutic core competencies. Through a series of initiative games, low ropes course activities, and high ropes course challenges, students learn how to build relationships of trust with their community while having fun and taking risks together. Through the use of metaphor and predetermined challenges, certified ropes course facilitators assist students in exploring their own personal fears and limitations, while learning to build and maintain trust and achieve success together.
Adventure Activity
Adventure activities are specifically chosen to provide opportunities for conversations and processing moments with our students. For eight to ten weeks we focus on different adventures such as rock climbing, canoeing, fly fishing, wake boarding, wilderness survival skills, backpacking and cycling. As students grow in their knowledge and experience of these different activities they are encouraged to find their own limitations and challenged to exceed them.
Engineered Experience
Each sequence has a trip where students travel to a unique and exciting location to demonstrate the hard and soft skills they've learned. The camping trips, or Engineered Experiences are specifically designed to create challenges and growth opportunities for students. Students are given a chance to celebrate the growth and successes they've had throughout the duration of the sequence.